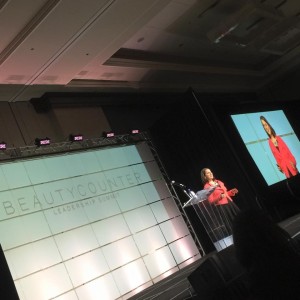 Who is Laura Stenovec?
Today, Laura's Beautycounter team is one of the largest in the company. Personally, she attributes her success to a leadership style that emphasizes individual attention and coaching. She leads and manages more than 7,200 consultants in all 50 states.
"I walk the walk and lead with authenticity," says Laura. "I pride myself on individual relationships with my team members, coaching people specifically based on their goals and their lifestyles. I know that a mom of three kids under 10 has a totally different lifestyle than someone with no children or an empty-nester. I know someone who wants to retire from her full-time job has different goals than someone who wants to make $500 a month to cover after- school activities for her kids."
She adds, "I want my team to know that someone cares about them and is invested in their success, helping them to build the business that they want to build." Learn about working with Laura.
Today, Laura has completely replaced (and well exceeded) the income she earned in previous jobs. Furthermore, she never imagined she could leave the nonprofit industry and still make a difference. She educates people on how to make their lives safer while helping men and women around the country build successful businesses.
In her free time, Laura loves to ski, travel, and spend time with family and friends. Philanthropy is important to Laura. She is an active volunteer for many local and national organizations. Never in her wildest dreams did she think that she would be able build a business that is financially rewarding while making such a significant social impact. It's truly a dream come true.
Would you like to join one of the most dynamic teams in the Beautycounter company? Contact Laura today at laurastenovec@gmail.com. You'll have fun, grow personally and professionally, and make the world a safer place! Now, that's a good call to make!